Top 10 Breathtaking Natural Wonders Of Canada
1. Canadian Rockies, British Columbia/Alberta
The Canadian Rockies are a network of mountains extends over 1200 km from British Columbia to Alberta. The Canadian Rockies are known for its subalpine valleys, amazing waterfalls, turquoise lakes and rich wildlife. The dazzling peaks of Canadian Rockies rise to 14000 feet in height in most areas. This mountain range also includes five amazing national parks – Banff, Jasper, Yoho, Waterton and Kootenay.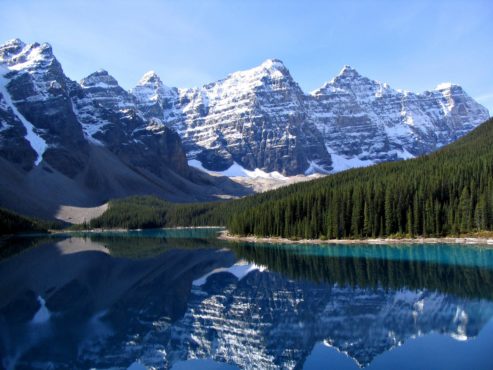 The Banff national park in Alberta province is the oldest national park of Canada, established in 1885. The park encompasses 6641 acres of the Canadian Rockies. The town of Banff is the highest town in Canada, located at an elevation of 4537 feet. The 20537 meter long Castleguard cave system is also located in Banff Park. It is the largest cave system in Canada. The Banff Park is also home to thousands of glaciers, endangered woodland caribou and glacier-fed lakes.
Spanning over 2,774,500 acres the Jasper National Park is the largest national park in the Canadian Rockies. Established in 1907 Jasper National Park is one of the oldest national park in Canada and a world heritage site. The park includes alpine meadows, forests, mountains, deep valleys, glaciers and 615 miles long hiking trails. The 3747 meters high Mount Columbia in the park is the highest mountain in Alberta. The Jasper Park offers many activities such as hiking, camping, horseback riding and rafting.
The Yoho National Park in Canadian Rockies known for its amazing waterfalls and glacial lakes. The park has 400 km long hiking trails, 61 lakes and 28 amazing mountain peaks that rise to more than 3000 meters in height. The Burgess Shale, one of most significant fossil discoveries also located in this park. This fossil field is dates back to 505 million years. Mostly all parts of soft-bodied animals that lived in the Cambrian period (505 million years ago) were well-preserved in this filed. It provided great opportunities for scientist to make a deep understanding of evolution of life on Earth.
The Kootenay National Park located in Southeastern British Columbia is named after the Kootenay River flow through the park. Covering over 1406 square kilometers of land the Kootenay Park contains hot springs, beautiful landscapes, valleys, sedimentary rocks and impressive mountains.
The extensive network of trails in the park lets the visitors to explore the scenic landscapes, lakes and glaciers. The radium hot springs is one of the main attractions of the park. The waters of radium hot springs have presence of radioactive element Radon and the host springs were also named after this element.